Escape room in Palma de Mallorca
Europe » Spain » Balearic Islands » Palma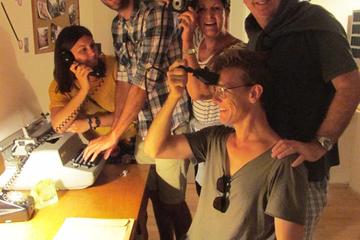 Duration: 60 minutes
Departs: Palma, Spain
Price from USD 15.62
Book Now
This is the nest of a secret agent, who's investigating four suspicious agents, probably double ones. Your task is to find the mysterious relationship between them. The owner has just left his nest for one hour, time at your disposal to find out what's going on and what can be the secret code allowing your team to make it out before being identified.

Your mission consists of getting to his files through the several security codes, find the secret files and the connection between them, then using this data to find the way out! Be careful! – as time is limited, no mistakes are allowed! Team-work and quick thinking are the clues for success!
Secret Agent on Palma de Mallorca?!

Yes, the news is right! In the heart of the city, in a small and narrow street you can have a look at his nest and, if brave enough, dive into his everyday life through a secret mission. We lock you into his flat, where you have 60 minutes to get through codes, teasers and logical twists and to dive into the world of the 70's encompassed by agents and spies.

You have to prove that your team is able and co-operative enough to win over the clock and open the ultimate lock that leads you to the only way out of the evil trap. All you will have is your wits as you solve the logic problems and codes that are your only hope.You don't have to be alarmed there are no scary or spooky things, this game is a race against the clock. That's where you will find the excitement!Guests will enter in groups of 2-5, your big muscles will not help you here, what you'll need is a great big brain and a cool head.Come play and you could emerge as heroes of the day! The hour you spend is bound to stay with you once the game is over.
« All Activities