North Of Mallorca Highlights: Guided Day Tour
Europe » Spain » Balearic Islands » Palma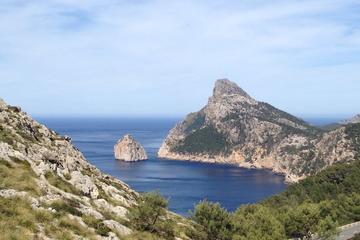 Duration: 8 hours
Departs: Palma, Spain
Price from USD 40.17
Book Now
This day out will take you to see some of the most beautiful places in the North of Mallorca: stunning views of the area of Formentor, a stop for a swim at the well known beach of Formentor, a 20 minutes boat trip, free time in Puerto Pollensa and a visit to a local market.
On this full day excursion you will be picked up in the morning and then head to a local market first. On Wednesdays you will visit Sineu market, on Tuesdays, Alcudia market, and on Sundays you will visit both Pollensa market or Alcudia markets. At the local markets, you will have more than an hour to explore it and to do some shopping.

Later, you will drive to the viewpoint of Colomer along one of the most beautiful roads of Mallorca built in 1929 passing through the Unesco world heritage mountain range of Tramuntana and enjoying panoramic views of the Port of Pollensa.

Your first stop will be at the viewpoint of Colomer where you can take some fantastic photos, and you will enjoy views of the Cap of Formentor, the blue colour of the sea, dramtic cliffs...

Then you will visit the beach of Formentor. There is time enough for a stroll along the beach and a swim in the crystal clear waters of this well known beach, or even to walk to the 5star Formentor Hotel.

The next part of the trip is a boat to experience (about 25 min) from the beach of Formentor to the Port of Pollensa. You will have the chance to enjoy unique views of the Mountains of Tramuntana, the dramatic coastline, the Bay and the Port of Pollensa, which you can observe only from the sea.

You will arrive at Puerto Pollensa and you will have free time. There are many options there for you: a stroll around the marina, go for a lunch or just relax and sunbathe on the beach.

You will then get once again on the coach and you will be taken back to your hotels.
« All Activities