Tandem Paragliding Experience in Alcudia
Europe » Spain » Balearic Islands » Palma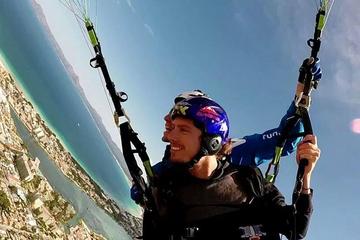 Duration: 20 minutes
Departs: Palma, Spain
Price from USD 133.89
Book Now
Enjoy a different experience while visiting Mallorca and book this 20-minute paragliding experience in Alcudia with a professional instructor. To perform this two-seater flight you don't need any previous experience, anybody can fly.
If you have ever dreamed of flying, now is your time. Discover the free flight with a two-seater paragliding, an easy but unforgetable way to discover the sky and feel free like a bird.

There are various flying areas in Mallorca depending on the wind intensity and direction. This activity will take place in the Alcudia area since in its two bays you will be able to find the perfect conditions to perform this sport. And besides, it has a unique landscape to overfly mountains, sea and beach.

The paragliding activity allows you to fly with a wind between 0 to 30 Km/h which is normally reached in summer and occasionally in winter.
The flight reservation and performance will depend on the weather.
« All Activities